Ethel, Karas and Grace were alone at home when it happened. Ethel was preparing dinner with Karas when his wife suddenly started grasping for air and before he could react further as she collapsed unconscious on the floor, he saw the dark shadow of that once familiar figure appearing.
'The Grim Reaper!' Ethel exclaimed as the Grim Reaper floated closer to him and the obviously dead (by now) Karas.
'It's time, Ethel…there's no stopping me this time and no, you cannot plead to die in her place this time either.' Gimmie said in a low voice.
Ethel sighed. There would be no saving her a second time, after all.
'I am so sorry that this happened in your kitchen again but she died of myocardial infarction this time. You ought to have taken care of her better. With all that grilled cheese sandwiches she stuffed down her throat, she had shortened her life by about ten years.'
Ethel sighed even more heavily when he heard that as he held the cold hand of his dead wife.
'Let's have a two for one deal, Grimmie. Take me as well.'
The Grim Reaper looked up from his notepad in surprise when he heard that. This was the first time a sim had volunteered to die early!
'I wouldn't know how to live without her. Let us go together…'
'But you have another 15 years of your life.'
'It doesn't matter.'
'If that's what you really want, I shall comply.'

***
Meanwhile with no one to supervise the seven years old mischievous Grace who was testing the power of her lungs under water, it wasn't too long before the Grim Reaper had to visit the Keats for the second time that night.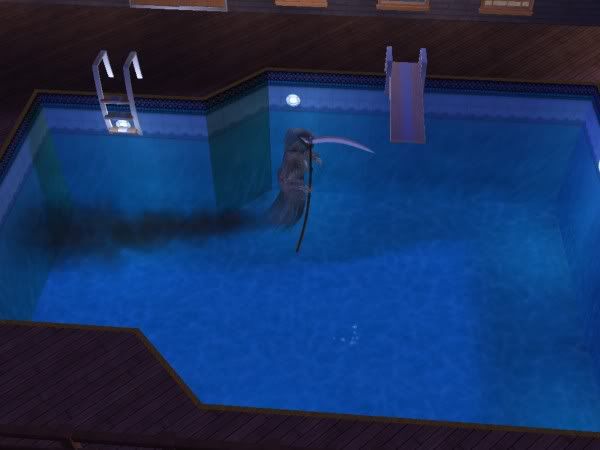 ****
In typical Keats fashion, the whole family goes into self-denial, trying to pretend that triple deaths did not occur in the family. Aki (who takes over Ethel's role as family chef) continues preparing meals and setting the table for seven. Fyn cries whenever she is alone while Havie would often stare into space for hours at a time.




***
It is during this time of sadness that Clyde grows up to be a fine looking toddler but that is no cause of joy for the grieving Keats.